Shredding Paper's 50 Greatest Singles - Ever!
1 - Sonics Rendezvous Band - "City Slang"
This 1978 release was mainly sold by the Detroit band at their live shows in the midwest, and strangely, was the only song they released during their career. One side had a mono version, while the flip was stereo. Only a couple thousand were pressed despite the pedigree of the band members. The band was lead by former MC5 guitarist Fred "Sonic" Smith, and his wife, Patti Smith provided backing vocals, Scott Asheton from The Stooges played drums, Scott Morgan from the Rationals played rhythm guitar, and Gary Rasmussen from Uprising played bass. "City Slang" was an update of the MC5 that definitely kicked out the jams, and though barely noticed at the time has developed an enduring legend. There are now Sonics Rendezvous Band albums available, and the single has recently been reissued in Europe as a limited pressing.
2 - Elvis Presley - "Don't Be Cruel/Hound Dog"
Heck, take all the Elvis records on RCA from 1956 and '57 and put 'em here. Every sound on those records was perfect, which is why they sound as remarkable now as they did at the time. Elvis was one of the best vocalists ever.
3 - Joy Division - "Love Will Tear Us Apart"
Joy Division frontman Ian Curtis killed himself in May of 1980, a month before the release of this single, but that could barely enhance the poignancy of his poetic expression of despair. The song's intro is classic stuff, as the percussive beat gives way to the soaring keyboard riff. Curtis' vocal progressed a lot from the uneven resigned feel of the demo to the fatalistic final version. The acoustic guitar, later to become a signature for New Order, was another brilliant touch on this Martin Hannett produced single.

4 - Bob Dylan - "Like a Rolling Stone/Gates Of Eden"
Dylan was a folk icon for his socially conscious anthems like "Blowin' In the Wind" and "The Times They Are a Changing", so it's ironic that his first hit was this nasty put-down of an ex-girlfriend. (Joan Baez?) The voice of his generation followed up his chart success with, "Positively 4th Street", an even more mean spirited attack on former friends. This is the record that began the folk-rock movement in 1965, and with its 6 minute length it broadened the horizons for what could be played on the radio.
5 - Beatles - "Strawberry Fields Forever/Penny Lane"

John and Paul each deliver a song about a place remembered from their Liverpool childhoods on this early '67 release. "Penny Lane" ain't no slouch, but Lennon steals the show on the flipside with his psychedelic anthem. Listen carefully and you'll notice a dramatic shift from one version of the song to a second version via a splice in the song's 60th second. This was the 4th in a series of six brilliant psychedelic singles the band released, and it probably marks their peak as a band. The six in order were, "Nowhere Man", "Rain", "Yellow Submarine", "Strawberry Fields Forever", "All You Need Is Love/Baby You're a Rich Man" and finally "Hello Goodbye". Although the American rock press has always maintained that Psychedelic music was an American creation of West Coast bands like the Airplane and the Dead, it was really the Beatles who invented and popularized it.
6 - Toots and The Maytals - "Pressure Drop"
It was the 1968 version of this Jamaican classic that landed on the 1972 soundtrack to the cult movie, "The Harder They Come" starring Jimmy Cliff, and propelled the song to cult status of its own. When the rock steady era ended Toots (whose singing is reminiscent of Otis Redding) and the gang recorded a rarely heard reggae version that lacked the magic of the original version's gospel feel.
7 - The Move - "Do Ya'"
The Move were a late '60s British band who were probably under-appreciated in the states despite 7 top ten hits in England, including such gems as "Fire Brigade" and "I Can Hear the Grass Grow. They were slightly nutty, known for smashing up stuff on stage. Jeff Lynne joined the band as they were transitioning into ELO, and helped the Move make their final single a full blown anthemic pop masterpiece. Their best ever, and in 1972 it fit comfortably into the Glam rock movement. Lynne rerecorded the song years later for ELO, but it couldn't match the original.

8 - Beach Boys - "Don't Worry Baby/I Get Around"
"I Get Around" was the first #1 hit for America's greatest band. Good tune alright, but the single is best remembered for the superb B side, a catchy Brian Wilson ballad with lush harmonies and Roger Christian's unforgettable lyrics about the soothing power of love, set in the context of a drag race.
9 - Clash - "White Man/The Prisoner"

Although "The Prisoner" may be my favorite Clash song, it was "White Man (in Hammersmith Palais)" that established the band as the best songwriters of the punk era. This record is also convincing proof that their production and arranging skills were light years ahead of the competition. Listen to the A side and you'll be able to identify 50 sounds you've never heard from any other band. The song is a reaction to attending a reggae concert and feeling the artists are missing an opportunity to deliver a message to fans. That's a problem the Clash didn't have to worry about, as this song proves they could say more in a line than other bands could in a whole song.
10 - Mekons - "Where Were You?"
In 1978 the world was ready for some radical musical ideas, and the Mekons were Leeds University art students making arty punk. "Where Were You?" is a mystery of a song with a great lead vocal, and an intro that's sneaky quiet until a long drum roll fades in and builds to climactic intensity. I still haven't figured it out, but it sounds as unique now as it did back in the day.

11 - Jackie Wilson - "Reet Petite"
Wilson was a soul superstar from Detroit whose brilliant early singles were penned by another motor city legend, Berry Gordy. It might be impossible to top that combination, as those early singles prove, but sadly money issues caused a split. Well, not that sad when you consider Gordy formed Motown after the split and made the best American records of the '60s.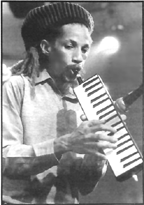 12 - Augustus Pablo - "King Tubby Meets the Rockers Uptown"
I used to DJ on a college station and when I played this 1975 single I could count on the phone lines lighting up. It was fun talking to people who felt their lives had just been changed forever. The late Augustus Pablo was a melodica player who had produced and co-authored this early '70s record with reggae star Jacob Miller, who sang "Baby, I Love You So" as the A side, but the B side remix stole the show and became a seminal moment in the dub movement.
13- The Cure - "Boys Don't Cry"
Nothing revolutionary about this 1979 single. It's just the best song from one of the best sounding bands ever. Great lyrics, great melody.
14 - Tornadoes - "Telstar"
Telstar was the first communications satellite, and the world was captivated by the possibilities it represented as it orbited Earth. As you can imagine it's tough to cash in on the popularity of an expensive piece of high tech gadgetry by writing a song about it. But Joe Meek, the greatest British producer of the early '60s had an idea - an instrumental. Without a language barrier to slow it down it became the biggest selling record of 1962 all over the world. It hit #1 in many nations including England and the United States. One of the keys to the record's unique sound was an outmoded electronic keyboard instrument called the Clavioline that Meek bought at a thrift shop.

15 - Bob Marley - "Guava Jelly"
Marley had a career full of superlative tunes about politics, religion, ganja, and more, but his love songs were some of his best. This sexy tune from 1970 never got the attention it deserved. It was released as a single in Jamaica, but never made it on to one of his studio albums, thus remaining unknown to much of his worldwide audience.
To read the rest of our comments on singles 16-50 pick up a copy of SP #14.
16 - Martha and The Vandellas - "Quicksand"
17 - Prisonshake - "Two Sisters"
18 - Jive Five - "My True Story"
19 - Gang Of Four - "Love Like Anthrax/Armalite Rifle/Damaged Goods"
20 - Buddy Holly and The Crickets - "Peggy Sue/Everyday"
21 - Husker Du - "In a Free Land"
22 - Otis Redding - "Respect"
23 - Wedding Present - "Nobody's Twisting Your Arm"
24 - Feelies - "Raised Eyebrows"
25 - Ike and Tina Turner - "It's Gonna Work Out Fine"
26 - Channels - "The Closer You Are"
27 - Culture - "Two 7's Clash"
28 - James Brown - "Prisoner Of Love"
29 - Crime - "Hot Wire My Heart"
30 - Marvelettes - "Beechwood 4-5789"
31 - Sex Pistols - "God Save the Queen"
32 - Another Sunny Day - "You Should All Be Murdered"
33 - Jesus and Mary Chain - "You Trip Me Up"
34 - Marbles - "Red Lights"
35 - Chapterhouse - "Pearl"
36 - Pere Ubu - "Final Solution/Cloud 149"
37 - Violators - "Gangland"
38 - Cramps - "Human Fly/Domino"
39 - Dinosaur Jr. - "Freak Scene/Keep The Glove"
40 - Sugarcubes - "Birthday"
41 - Kate Bush - "Wuthering Heights"
42 - Miracles - "Mickey's Monkey"
43 - U Roy - "Wear You To the Ball"
44 - Clash - "Complete Control"
45 - Junior Murvin - "Police and Thieves"
46 - Madonna - "Holiday"
47 - The La's - "There She Goes"
48 - Ray Charles - "What'd I Say"
49 - Mott the Hoople - "All the Young Dudes"
50 - Freshies - "If You Really Love Me Buy Me a Shirt"